Riders and organizers gear up to promote Isle of Wight Tour of Britain stage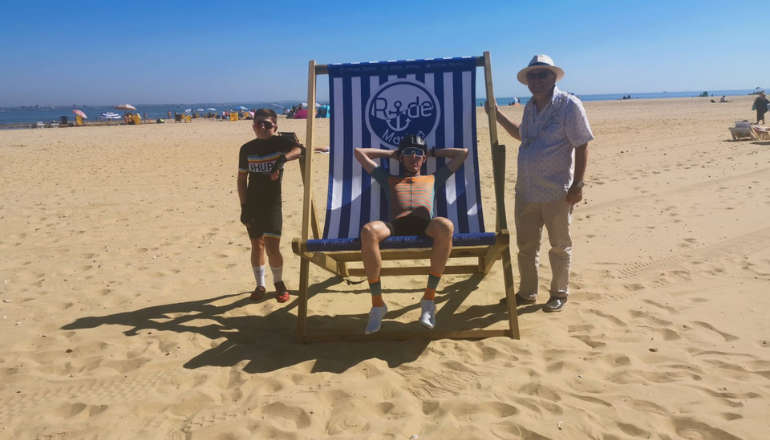 Left to right: 13-year-old youth cycle star Harrison Hendy, Tour of Britain Ambassador Dan Martin and Mayor of Ryde Michael Lilley.
Riders, icons and local dignitaries came together to promote next month's Tour of Britain stage on the Isle of Wight yesterday (Thursday).
Event ambassador and Tour de France stage winner Dan Martin was among a star-studded crowd at Ryde yesterday, along with local cycling hero Tim Wiggins on part of the route, which culminates in the Needles.
The Tour of Britain will become one of the most prestigious sporting events to take place on Isle of Wight soil when the eight-stage race ends here on Sunday September 11.
Dan told IW Radio:
"Hopefully this will bring a huge boost to tourism on the island, the race is being broadcast around the world.
"If we have another great day like today, everyone can see what an amazing place it is.
"It's a very tough race and the Isle of Wight stage will definitely be a test for the Peloton!"
The final stage promises to be unforgettable for runners and fans alike, thanks to the spectacular 148.9 kilometer course from Ryde to The Needles.
Around 120 riders from 18 teams will take part in the action, with a different good cause highlighted for each race day.
Matt White from Mountbatten – the charity chosen for the island stage – has revealed how important support is to the Newport-based end-of-life charity.
He said:
"We are delighted to be involved and very grateful to the organizers for this.
"This is a huge opportunity both for the Isle of Wight and for us as a charity.
"It costs £10million a year to make sure our services are free for everyone on the island, so any way we can share messages about what we do is really important to us."
Mountbatten has created a commemorative sunflower to mark the occasion, which will soon be available for purchase online or at event villages on the day.
Ryde Town Mayor Michael Lilley, meanwhile, spoke lyrically about the importance of occasions like this, saying:
"The Tour of Britain celebrates life and we need to look at inspiration, creativity and innovation in light of recent challenges.
"Every Wednesday young people have access to special cycling sessions in Ryde and the council recycles old bikes to also distribute them free to people.
"We even make sculptures with old rusty pieces! »
More information about the final stage of the Tour of Britain and how you can get involved is available online.