Wrangell's Sourdough Lodge reopens as Cedar House Inn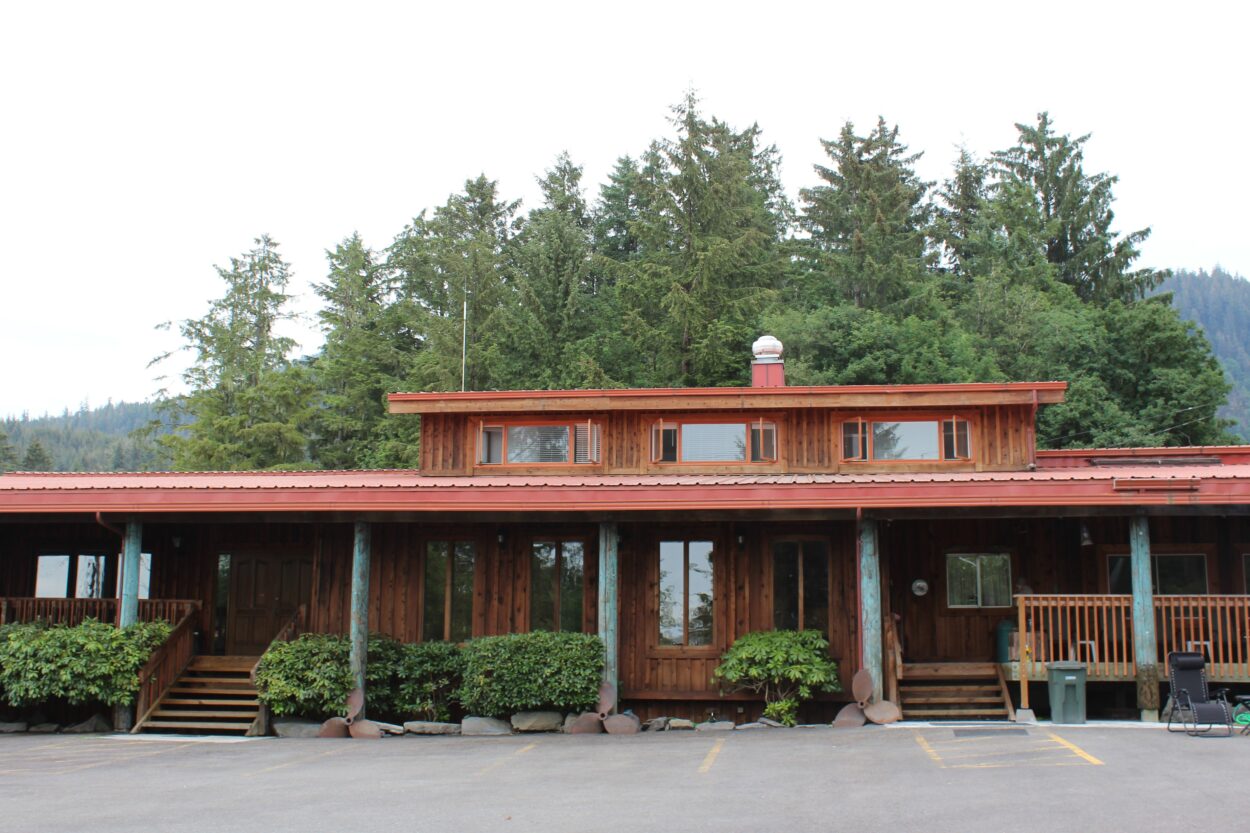 Across Southeast Alaska, short- and long-term rental housing is incredibly tight — in Ketchikan, developers have even floated the idea of ​​using parts of an old state ferry to lighten pressure to find accommodation for temporary workers.
The owners of Wrangell's burger restaurant are looking to help out by renting out a decades-old bed and breakfast to try to meet local demand for hotels and short-term rental space.
Residents of Wrangell may know the red-roofed cedar building at the base of the peninsula that protects the town's inner harbor as the Old Sourdough Lodge. But the building is under new management.
"It's brand new," says Josh Young with a laugh. "We make burgers. I've stayed in a hotel before, but that's about it.
Sitting in the lodge's harbor-view great room, Clarissa "Rissa" and Josh Young say they've been running a lodge for over a decade, but it's finally coming together.
"It's a whole new adventure," Clarissa said, pointing to the spacious room.
"It really is," confirms Josh. "It's an opportunity, a real opportunity. That's really nice. And that gives us the opportunity to stay in Wrangell, which ultimately was – is – a big deal for us.
"And," Clarissa adds, "we gave the city something to talk about, you know, like positive vibes. I think that's probably been one of the coolest things, just everywhere I turn people like, 'Oh my God, you guys, congratulations.' It feels really good because it feels like the community is super supportive and really wants this to happen, so I think that's great. And it's such a beautiful building that there's nothing going on here, you know, I love quirks and stuff. I love this building.
Like many other Alaskan communities, Wrangell's short-term and long-term housing markets have very little wiggle room. Apartments on local "For Rent" pages are often bought up the same day, and before the Youngs reopened the lodge for business, the housing market for visitors consisted of a hotel and a few small bed and breakfasts. Josh and Clarissa are hoping they can take the pressure off.
The Youngs say they were looking for a new business, a place to expand beyond J&W's covered cedar porch on Front Street. Additionally, they also have a more personal connection to the old Sourdough Lodge.
"This was our wedding and reception space here," Clarissa says of the building's grand hall overlooking the harbor.
"My grandfather stayed in one of those rooms there," Josh adds with a laugh. "Yeah, that was pretty cool. All of our wedding photos are in this room.
The 15,000 square foot building has been around, in one form or another, since the mid-1980s, when it started out as a simple modular. Today's cedar structure has grown around it over the years – There is a framed series of photos of the building's progression in the kitchen.
From the 1980s to 2016 it was a bed and breakfast. For a few years in the late 2010s it operated as an assisted living facility and the borough rented space in the former Sourdough Lodge as a quarantine facility at the height of the pandemic.
But it will no longer be known as the old Sourdough Lodge. Rissa and Josh settled on "The Cedar House Inn".
In total, the hostel has 18 rooms, but the Youngs say they try not to overwork themselves too quickly. They start by renting eight, and only for shorter term rentals.
But they also plan to rent rooms long-term – possibly some of the larger suites in the upper part of the building. Josh says they have been approached by a number of people and organizations in town about the possibility of longer leases, including local healthcare provider SEARHC.
He says the goal is to have longer-term rooms available by August.
"If we're trying to go full throttle right now, I think that's a recipe for failure," says Josh, "and it would probably sacrifice the quality of service we're able to provide."
Josh has pledged to keep the kitchen running. He's an avid cook, even outside of the burger joint, and he's in love with the lodge's American-made range and commercial kitchen layout. The Youngs want to serve a simple, sit-down breakfast — eggs, bacon, toast… maybe sourdough pancakes as a tribute to the building's history.
It's been a hectic process of putting together all the little things that go into running a hotel, says Josh: "The last three weeks have been crazy. »
And they say they couldn't have done it without the help of their five children, ages seven to 15. The oldest held the fort at the burger place. The second oldest wants to be head of household. The younger ones unpacked stacks and stacks of Amazon boxes.
Clarissa calls it "a good upbringing."
"It's phenomenal to be able to give your kids something like this," adds Josh. "It's, it's huge. Where else could they be exposed at the very beginning of starting a business like this and, and all the little things? We share all of our trials and thoughts along the way and how we approach each challenge as it progresses. And I think that's an experience that's not available to most [people]. It was definitely not available to me.
At the moment, the Youngs are not buying the building outright. Their lease-to-own contract is for 12 months – July to July – but they hope to purchase what is now the Cedar House Inn in April 2023, having the building meet its rental cost by September and renting 16 of the 18 rooms by October.
"We have lots of ideas," says Josh. For the Youngs, running a lodge is not just about welcoming tourists and visitors, or even longer stays. "We want to make it a place where the community, local people can come and sit, relax and enjoy events at different times of the year. It's just because it's a real – it's a welcoming place," he adds.
Eventually, they hope to organize family meals, perhaps a large Christmas buffet. But before the community can gather and feel the magic of the small town of Wrangell at the Cedar House Inn, the Youngs are focusing on building the base: eight rooms to rent and breakfast, later this month. .
Find Cedar House Inn on Facebook.
Contact KSTK at [email protected] or (907) 874-2345.